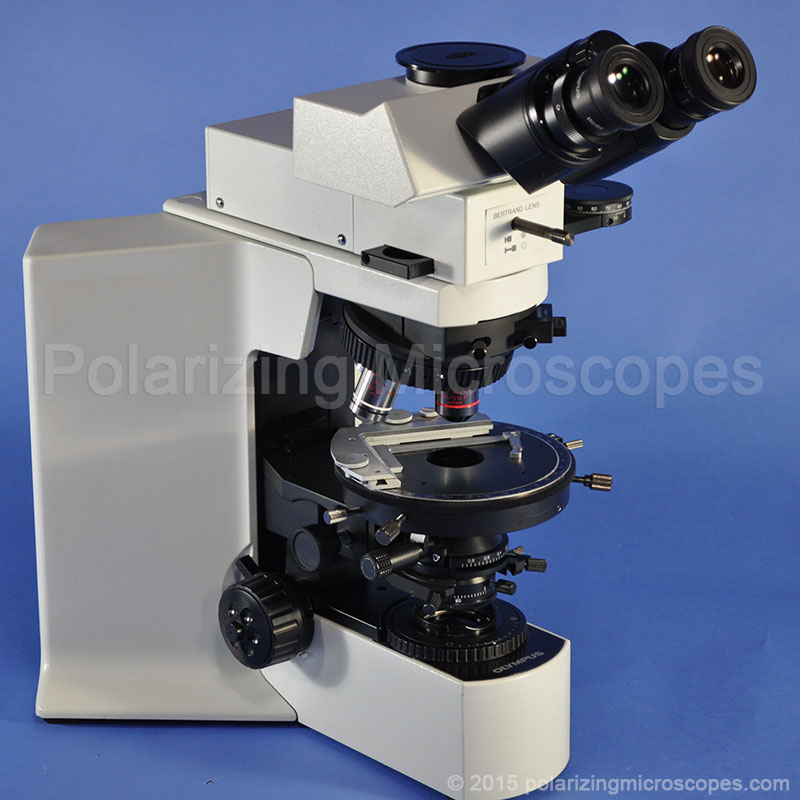 Trinocular Head:
U-TR30 Trinocular head with photo port.
Crosshair Reticle in right eyepiece.
10x/22mm field of view eyepieces. (WH10X/22 with diopter adjustment, WHN10X/22). High eyepoint.
Strain Free Objectives:
UPlanFl 4x/0.13 P, Infinity/-. Strain free polarizing lens. Fluorite.
Ach 10x/0.25 P. Infinity/-. Strain free polarizing lens.
Note: several objectives are shown in the photos. These specs say which are to be included in the listed price.
Optional Objectives (not included in price):
$400. Ach 20x/0.40 P, Infinity/0.17, Strain free polarizing lens.
$450. Ach 40x/0.65 P, Infinity/0.17, Strain free polarizing lens.
$500. Ach 100x/1.25 Oil P, Infinity/-. Strain free polarizing lens.
Photography:
Includes a top port for use with photography.
3MP Digital Camera with 0.5x C-Mount camera adapter (this is the only non-Olympus item).
Condenser:
U-POC-2 strain free condenser with rotatable polarizer.
Rotating Stage:
U-SRG. Rotating Stage. A true polarizing microscope will have a rotating stage.
Mechanical XY slide holder. This is the version that has a low profile to keep it from hitting the objectives when they rotate.
Special Polarizing Features:
U-P4RE. Centerable Nosepiece. 4-Place. Has centering screws so the objectives can be centered in the light path.
U-CPA Intermedate Attachment for conoscopic and orthoscopic observation. With Bertrand lens. Many ads say their microscope is a "polarizing microscope" but be careful. It likely is only has plane polarization, or at the most, cross polarization. This has the complete Bertrand lens setup and is capable of doing optical mineralogy measurements and identification of rocks and minerals.
U-AN360P Analyzer with 360 degree rotation.
U-TAD adapter for compensators. This fits into the nosepiece opening.
U-TP530 first order red 530nm compensator. This fits into the U-TAD.
General Specifications:
Frame Model: BX51TF.
Made in Japan. This is not one of those low-end Chinese or Indian units that are only for basic student usage.
100V-120 / 220V-240V. 50/60 Hz. Capable of either voltage.
UL Laboratory Equipment Listed.
CE Certification.
Illumination:
U-LH100 Quartz Halogen lamp housing with bulb. 12V-100W.
The BX51 model has the higher power light, 100W, compared to the 30W for the BX40 and BX41 series.
The BX51 frame includes several built-in filters. These include ND6, ND25, and LBD.
General Notes:
Microscope is reconditioned and in good condition. We guarantee all functions work fine.
Includes power cord, but it is not shown in images.
Beware of counterfeit fake parts:
Be sure of who you are buying from as a lot of "used dealers" are selling counterfeit parts, passing them off as originals.
All Original Parts – Not Counterfeit