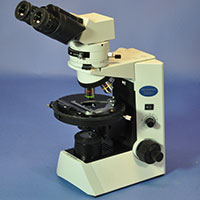 Features:
Frame Marking: Model CX31PF. Made in Japan.
Binocular viewing head. U-BI30P. Strain Free.
Rotating Stage. U-FMP.
XY Slide Movement on stage. Low Profile.
U-PA. Intermediate attachment for polarizing observation.
Analyzer Filter with pull lever to engage.
Eyepieces:
WHN10X/22
WHN10X-H/22
Both are High Eyepoint with ability to use eyeglasses when viewing.
Both have rubber cupping eyeguards.
UL Listed. CE Certification.
Strain Free Abbe Condenser.
6V-30W Halogen Illumination.
Includes power cord.
Five position objective nosepiece.
Strain Free Optical Objective Lenses:
All lenses are marked "P" for strain-free-polarizing.
Ach N 10x/0.25, infinity/-. P. FN22.
Ach N 20x/0.40, infinity/0.17. P. FN22.
Ach N 40x/0.65, infinity/0.17. P. FN22. Spring Loaded.
Ach N 100x/1.25 Immersion Oil, infinity/-. P. FN22. For usage with or without cover slip. Spring Loaded.
Options Not Included:
U-TP137 – 1/4 Wavelength Retardation Plate (fits in the U-PA). Item is additional cost.
Comments:
This microscope is in great condition.
Quality:
This is a high quality Olympus (Made in Japan) optical instrument.
We also sell Chinese and Indian Polarizing microscopes but the quality is substantially lower.